Ready-to-drink immunity boosting Kadha 2.0
100% natural active ingredient-based shot which is the ultimate immunity booster for adults and kids
Power packed with the goodness of Ayurveda and Antioxidants
Loaded with 8 super herbs (Giloy, Wheat Grass, Moringa, Amla, Safed Musali, Dashmool, Kalmegh, Ginger) and 5 super fruits (Pineapple, Apple, Pomegranate, Pumpkin Seeds & Lemon)
Enriched with Vitamins: A, B, C, E & K, and minerals such as Zinc, Calcium, Potassium & Magnesium
Sale price
MRP ₹. 900
Regular price
₹. 1,000
Unit price
per
Sold out
You Save: ₹. 100 (10% Discount)
Product Description

Our ARMR Pro Immunity Shot is a delicious ready-to-drink herbal decoction that helps boost immunity and overall well-being. Packed with the goodness of Ayurveda and Antioxidants, our new and improved Kadha 2.0 keeps you healthy and always hydrated. Loaded with 8 super-herbs and 5 super-fruits, it gives you a boost in immunity with a burst of flavour in every pocket-friendly bottle. Each shot is superpowered with Giloy extract, Wheat Grass extract, Moringa extract, Amla extract, Safed Musali Extract, Dashmool extract, Kalmegh extract, Ginger extract, Pineapple, Apple, Pomegranate, Pumpkin Seeds & Lemon. We've even enriched it with Vitamins: A, B, C, E, K and minerals: Zinc, Calcium, Potassium & Magnesium. Simply armour up with one shot every day to keep your immunity stronger than ever. Having been researched and developed at Baidyanath, our ARMR shots are sure to meet and surpass even the toughest industry standards, especially yours.
Product Ingredients

Pumkin Seeds (3g), Pineapple (900mg), Apple (750mg), Amla (600mg), Pomegranate (600mg), Giloy Extract (60mg), Safed Musli Extract (60mg), Lemon (50mg), Ginger Extract (45mg), Wheat Grass Extract (40mg), Moringa Extract (30mg), Dashmool Extract (30mg), Kalmegh Extract (10mg), Sodium Benzoate, Potassium Sorbate, Sodium Meta Bisulfite, Sorbitol, Sucralose.
How to ARMR up

1 shot a day is all you need to keep your immunity stronger than ever
For Legal Metrology Information Click Here

ARMR PRO IMMUNITY SHOTS

MANUFACTURED BY:

NATUREDGE BEVERAGES PVT. LTD.

At Baidyanath:

Bamhani, Gopalganj Dist., Seoni (MP) – 480661

Country of Origin: India

Ayurvedic Proprietary Medicine

MFG.LIC.NO:MP/25E/19/607

Net Volume: 60 ml X 20 Shots = 1200 ml

Batch No.

Manufacturing Date:

Expiry date:

BEST BEFORE 18 MONTHS FROM MFG.

For queries contact:

Customer Care Manager:

Contact no: 7066566655

Email id: care@naturedge.com

Registered Office Address: C/704, Pramukh Plaza, Cardinal Gracious Road, Chakala, Andheri East, Mumbai – 400059

www.armrshot.com
View full details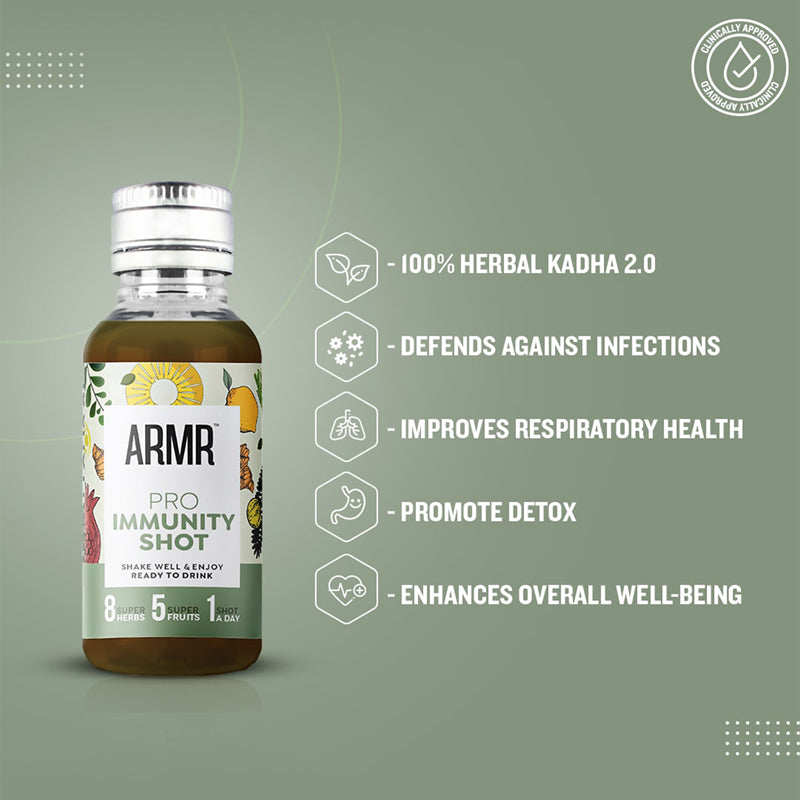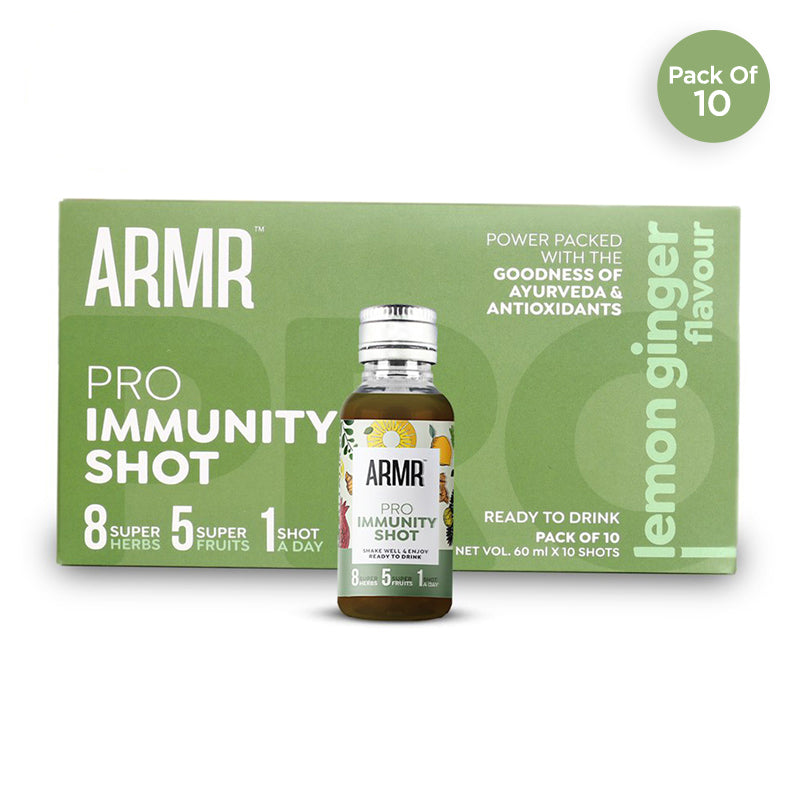 Panacea
I have no other words to say but a single word mentioned above and if at all more than a word then I would say then how lucky am I to receive it. That's beauty of it
Thank you so much. 💓
Pramod K.P
From Thalassery
had when sick
my bro got me this when i was down with flu. started feeling much better after using this shots
Immuneity boost
Having it from 15 days and i seen all improvements liek defense from germs.
Helped my mom
got these for my mom and shes been using it religiously. Its reduced the amount of times shes fallen sick, especially given the weather changes
blood pressure in check
Took second opinion from my doctor because i have diabetes. He told me it has Giloy for blood pressure and super fruits for blood sugar levels so its great help
Frequently Bought Together
FAQs
How does the Immunity Shot help me?
It is clinically proven to defend you against Infections, Promotes Detox and also Enhances Overall Well-being.
How does the Pro Immunity shot work?
These shots are rich in Active Ingredients, Vitamins (like A, B, C, E & K) and minerals such as Zinc, Calcium, Potassium & Magnesium that are essential for building immunity from the cellular level by acting as antioxidants.
How many shots can I drink?
It is recommended to have one shot everyday.
Does it contain any chemicals?
The Pro Immunity Shots are purely Ayurvedic and made with Super Herbs like Giloy, Wheat Grass, Moringa, Amla, Safed Musali, Dashmool, Kalmegh, Ginger and Super Fruits like Pineapple, Apple, Pomegranate, Pumpkin Seeds & Lemon.
Is it safe to consume?
It is Researched & Developed at the house of the Ayurvedic giant - Baidyanath and has been awarded the Clinically Approved certification by MPREX.Healthcare.
Are they safe for Diabetics and Kids?
Yes, these shots are Clinically Proven to be safe for consumption.
How do these shots get their taste?
Their taste is purely derived from the herbal ingredients present within it. Unlike other products, ARMR doesn't use any synthetic sweetening agents or added sugars to enhance its taste.