4 Super herbs, 2 Super fruits, 1 Shot a day
Ready-to-drink delicious shot with 100% natural active ingredients that help metabolize and burn stubborn fat
Powered with Apple Cider Vinegar that plays an important role in controlling sugar levels in the blood aiding the process of weight loss
Helps reduce appetite and supports healthy BMI (Body mass index)
Helps regularize metabolism, maintain blood sugar levels and promotes overall wellness
Power packed with the goodness of Ayurveda, Antioxidants, Vitamins and Minerals
Boosts energy levels
Zero added sugar and low in calories
Sale price
MRP ₹. 475
Regular price
₹. 500
Unit price
per
Sold out
You Save: ₹. 25 (5% Discount)
Product Description

Our ARMR Weight Management Shot with Apple Cider Vinegar is a delicious ready-to-drink, herbal decoction that helps reduce appetite and metabolise fat. This 60ml shot is made with the extracts of 4 super-herbs and 2 super-fruits. Each shot is superpowered with Kasni, Green Tea, Garcinia, Ginger, Pineapple, Apple. Packed with the goodness of Ayurveda and rich in Antioxidants, our weight management shots support healthy BMI, maintain blood sugar levels and promote overall well being. Apple Cider Vinegar plays an important role in controlling sugar levels in the blood aiding the process of weight loss. Enjoy a burst of delicious pineapple flavour in every pocket-friendly bottle. Simply armour up with one shot every day to keep your health goals and your body weight in check. Having been researched and developed at Baidyanath, our ARMR shots are sure to meet and surpass even the toughest industry standards, especially yours.
Product Ingredients

Kasni (1g), Green Tea (850mg), Garcinia Extract (500mg), Pineapple (500mg), Ginger Extract (250mg), Apple Cider Vinegar (200mg), Sorbitol, Sucralose, Citric Acid, Sodium Benzoate, Sodium Meta Bisulfite, Potassium Sorbate.
How to ARMR up

Consume 1 shot daily any time of the day for best results
For Legal Metrology Information Click Here

ARMR WEIGHT MANAGEMENT SHOTS

MANUFACTURED BY:

NATUREDGE BEVERAGES PVT. LTD.

At Baidyanath:

Bamhani, Gopalganj Dist., Seoni (MP) 480661

Country of Origin: India

Ayurvedic Proprietary Medicine

MFG.LIC.NO:MP/25E/19/607

Net Volume: 60 ml X 10 Shots = 600 ml

Batch No.

Manufacturing Date:

Expiry date:

BEST BEFORE 18 MONTHS FROM MFG.

For queries contact:

Customer Care Manager:

Contact no: 7066566655

Email id: care@naturedge.com

Registered Office Address: C/704, Pramukh Plaza, Cardinal Gracious Road, Chakala, Andheri East, Mumbai 400059

www.armrshot.com
View full details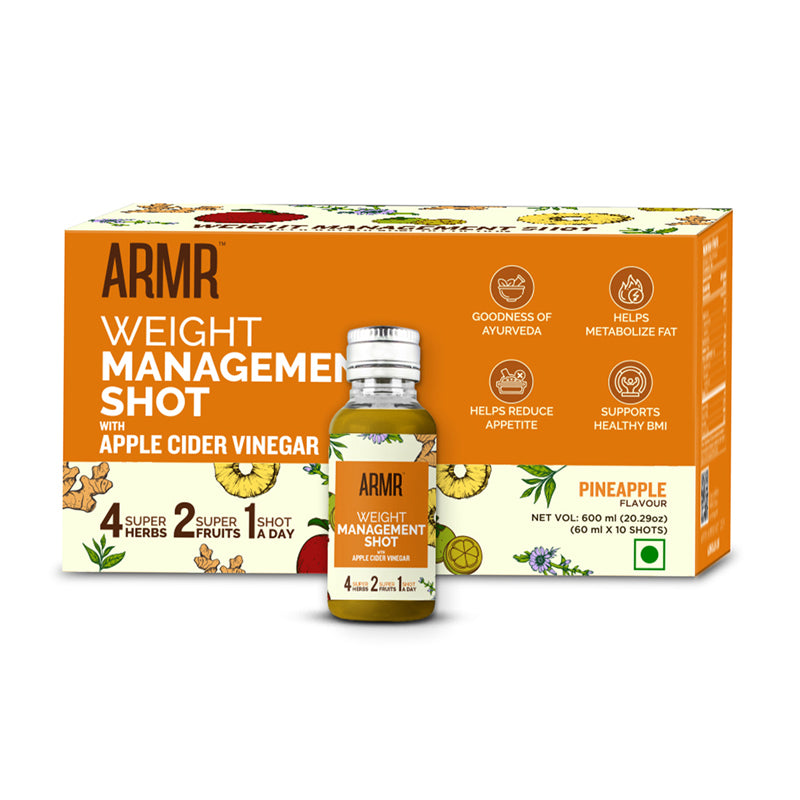 Best product for weight losss
I was skeptical at first, but this weight loss product exceeded all expectations. From 85kg to a stunning 55kg, I couldn't be happier. click here to discover the power of this life-changing product!
recommended by my trainer
My trainer always manages to find unique items for fitness. I'll be starting to have these with my new diet plan
so easy
it complemented well my fitness plan, asked my nutritonist on advice before taking these shots and she said its great!
got it for my dad
my dad isnt able to lose weight like he used to, so i sent him these to help his efforts
Frequently Bought Together
FAQs
How does this shot help with Weight Management?
Its core ingredient of Apple Cider Vinegar along with a complex curation of supr herbs that helps Metabolize Fat, Reduce Appetite and Support Healthy BMI (Body Mass Index) - all factors that assist you in reaching your weight goals.
How does the Weight Management shot work?
It is made with Apple Cider Vinegar, Garcinia containing actives like Hydroxycitric Acid (that blocks an enzyme called Citrate Lyase, which your body uses to make fat) & Green Tea (that has Caffeine & Catechins to Boost Metabolism and Increase Fat Burning)
How many shots can I drink?
It is recommended to have one shot everyday
Does it contain any chemicals?
The Weight Management Shots are purely Ayurvedic and made with Super Herbs like Kasni, Green Tea, Garcinia, Ginger, & Super Fruits like Pineapple & Apple
Is it safe to consume?
It is Researched & Developed at the house of the Ayurvedic giant - Baidyanath, with all herbal ingredients that make it safe for all.