Whether it's dinner and drinks or "Shots! Shots! Shots!", our Anti Hangover shots are always on hand to save the day (literally!). Just chug one before your first drink and leave the rest of the work to the 15 super herbs inside every shot. Go on, #GiveItAShot
Sale price
MRP ₹. 570
Regular price
₹. 600
Unit price
per
Sold out
You Save: ₹. 30 (5% Discount)
Product Description

Your very own Armour against the headache of hangovers! Not only is ARMR the ultimate hangover cure, it also keeps your liver happy. Cheers to that!
100% natural active ingredient-based, anti hangover shot. Clinically proven to help prevent hangovers.
Have it as your first shot before alcohol.
Packed with the goodness of 15 super herbs
Kasni, Ashwagandha, Aloe Vera, Ginger, Giloy, Punarnava, Pittapapada & Kamalphul, Amla, Kutki & Bhuiamlaki, Bhringraj, Mulethi, Green Tea and Saunf - and no sugar.
100% Vegetarian | Non Alcoholic | No Side Effects | Non habit forming
Product Ingredients

Mulethi Ext. (66 mg), Ginger Ext. (39.6 mg), Amla Ext. (37.8 mg), Ashwagandha Ext. (30 mg), Bhuiamla Ext. (21.6 mg), Green Tea Ext. (20.4 mg), Pittpapda Ext. (16.8 mg), Kutki Ext. (16.8mg), Bhringraj Ext. (16.8 mg), Kamalphul Ext. (15 mg), Punarnava Ext. (14.4 mg), Saunf Ext. (12.6mg), Kasni Ext. (10.2 mg), Aloe Vera Ext. (9.6 mg), Giloy Ext. (5.4 mg), Steviol Glycoside, Sucralose, Propylene Glycol, Citric Acid, Sodium Chloride, Potassium Chloride, Sodium Citrate, Potassium Sorbate, Sodium Benzoate.
How to ARMR up

The ABCs to being hangover-free:

Pick your favourite flavour
ARMR up before your first drink of the night
a couple of drinks down works too!
Enjoy a stress-free night of drinking and a hangover-free tomorrow
Tastes best when chilled
For Legal Metrology Information Click Here

ARMR ANTI-HANGOVER SHOTS – BLACKBERRY FLAVOUR

MANUFACTURED BY:

NATUREDGE BEVERAGES PVT. LTD.

At Baidyanath:

Bamhani, Gopalganj Dist., Seoni (MP) – 480661

Country of Origin: India

Ayurvedic Proprietary Medicine

MFG.LIC.NO:MP/25E/19/607

Net Volume: 60 ml X 6 Shots = 360 ml

Batch No.

Manufacturing Date:

Expiry date:

BEST BEFORE 18 MONTHS FROM MFG.

For queries contact:

Customer Care Manager:

Contact no: 7066566655

Email id: care@naturedge.com

Registered Office Address: C/704, Pramukh Plaza, Cardinal Gracious Road, Chakala, Andheri East, Mumbai - 400059

www.armrshot.com
View full details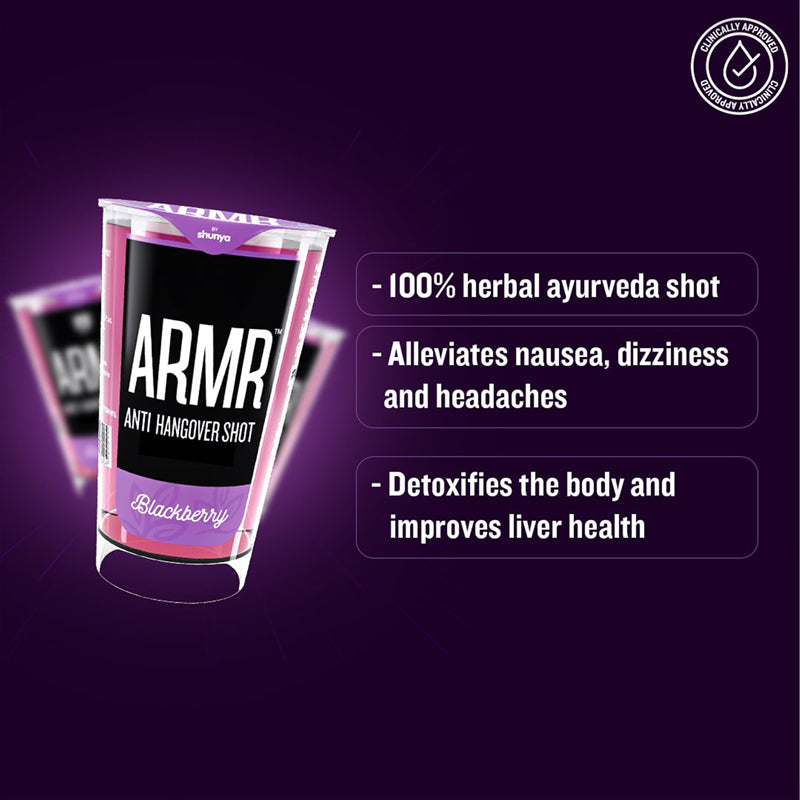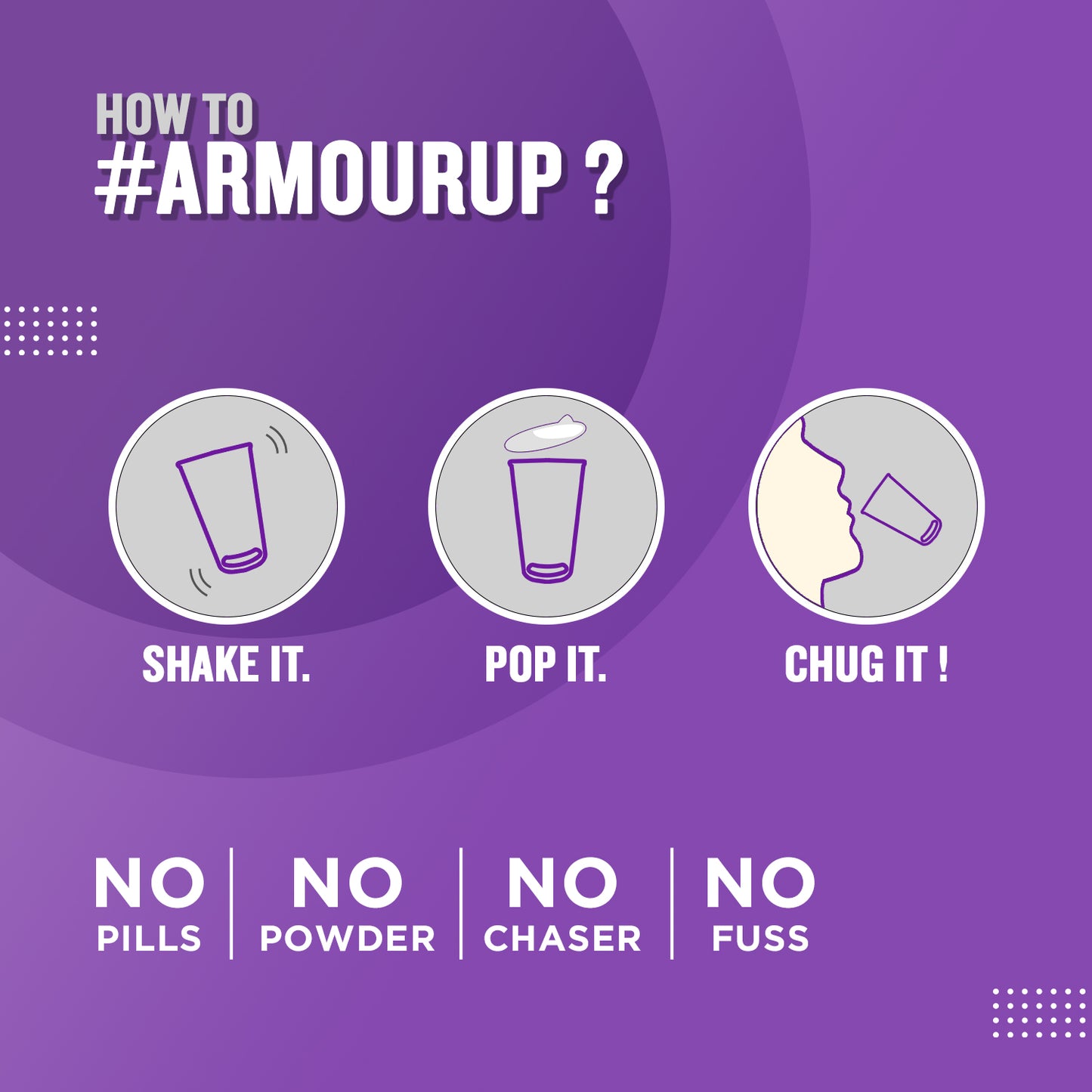 Safe for midweek drinking
It helps me be a regular at partying and a regular at work too
Blackberry had good taste
The blackberry taste is really nice. i felt like chugging more of these shots haha
good for liver
This is a rare herbal shot good for the the liver especially when you're a hard drinker like me.
Hangover free monday morning
Attended two parties over two weekends. Never got hangover on Monday
Took it to a party
Took a bunch of these shtos to a friends party and 9/10 of us didn't get a hangover
Frequently Bought Together
FAQs
What symptoms of a hangover does it alleviate?
It helps alleviate Nausea, Dizziness and Headaches.
How does the Anti-Hangover shot work?
Its a Clinically Proven and unique blend of Super Herbs & Super Fruits that contain minerals that act as electrolytes to help rehydrate your body from the effects of alcohol and replenish lost nutrients so that you wake up feeling fresh.
How many shots can I drink?
It is recommended to have one shot before your first drink of alcohol.
Does it contain any chemicals?
The Anti-Hangover Shots are purely Ayurvedic and made with 15 Super Herbs like Kasni, Ashwagandha, Aloe Vera, Ginger, Giloy, Punarnava, Pittapapada & Kamalphul, Amla, Kutki & Bhuiamlaki, Bhringraj, Mulethi, Green Tea and Saunf.
Is it safe to consume?
It is Researched & Developed at the house of the Ayurvedic giant - Baidyanath and has been awarded the Clinically Approved certification by MPREX.Healthcare.
Can I drink ARMR Anti-Hangover Shot after I start drinking alcohol?
For best results, make the Anti-Hangover shot your first drink of the night.
Will I sober up instantly if I take an Anti-Hangover Shot?
No. Our formulation is designed to assist your liver detox your body of alcohol using natural ingredients only. It is low in calories, does not contain any caffeine or added sugar. This means you get to enjoy your evening in high spirits, come home to get the rest you need and wake up fresh, healthy and hangover free!