7 Super-herbs, 2 Super-fruits, 1 Shot a day
Ready-to-drink delicious shot with 100% natural active ingredients that promote detoxification and gut health
Powered with Activated Charcoal, works through the digestive tract by trapping toxins in the gut and preventing them from being absorbed
Aids in digestion and supports a healthy liver function
Helps regularise Metabolism and improves bowel movement
Helps cleanse the blood to ensure efficient absorption of nutrients
Power packed with the goodness of Ayurveda, Antioxidants, Vitamins and Minerals
Zero added sugar and low in calories
Sale price
MRP ₹. 475
Regular price
₹. 500
Unit price
per
Sold out
You Save: ₹. 25 (5% Discount)
Product Description

Our ARMR Daily Detox Shot with Activated Charcoal is a delicious ready-to-drink herbal decoction that aids in digestion, promotes gut health and regularises metabolism. This 60 ml shot is made with the extracts of 7 super-herbs and 2 super-fruits. Each shot is superpowered with Fennel, Green tea, Milk thistle, Ginger, Amla, Baheda, Hirada, Apple and Pomegranate. Packed with the goodness of Ayurveda and rich in Antioxidants, our daily detox shots improves absorption of nutrients, helps maintain lipid levels and supports healthy liver function. Activated charcoal works through the digestive tract by trapping toxins in the gut and preventing them from being absorbed. Enjoy a burst of delicious fennel flavour in every pocket-friendly bottle. Simply armour up with one shot every day to keep your detox game and gut health stronger than ever. Having been researched and developed at Baidyanath, our ARMR shots are sure to meet and surpass even the toughest industry standards, especially yours.
Product Ingredients

Fennel (3g), Green Tea (850mg), Organic Bamboo Activated Charcoal (200mg), Milk Thistle Extract (150mg), Pomegranate (100mg), Ginger Extract (20mg), Amla Extract (10mg), Baheda (10mg), Hirada Extract (10mg), Sorbitol, Sucralose, Citric Acid, Sodium Benzoate, Sodium Meta Bisulfite, Potassium Sorbate.
How to ARMR up

Consume 1 shot daily any time of the day for best results
For Legal Metrology Information Click Here

ARMR WEIGHT MANAGEMENT SHOTS

MANUFACTURED BY:

NATUREDGE BEVERAGES PVT. LTD.

At Baidyanath:

Bamhani, Gopalganj Dist., Seoni (MP) 480661

Country of Origin: India

Ayurvedic Proprietary Medicine

MFG.LIC.NO:MP/25E/19/607

Net Volume: 60 ml X 10 Shots = 600 ml

Batch No.

Manufacturing Date:

Expiry date:

BEST BEFORE 18 MONTHS FROM MFG.

For queries contact:

Customer Care Manager:

Contact no: 7066566655

Email id: care@naturedge.com

Registered Office Address: C/704, Pramukh Plaza, Cardinal Gracious Road, Chakala, Andheri East, Mumbai 400059

www.armrshot.com
View full details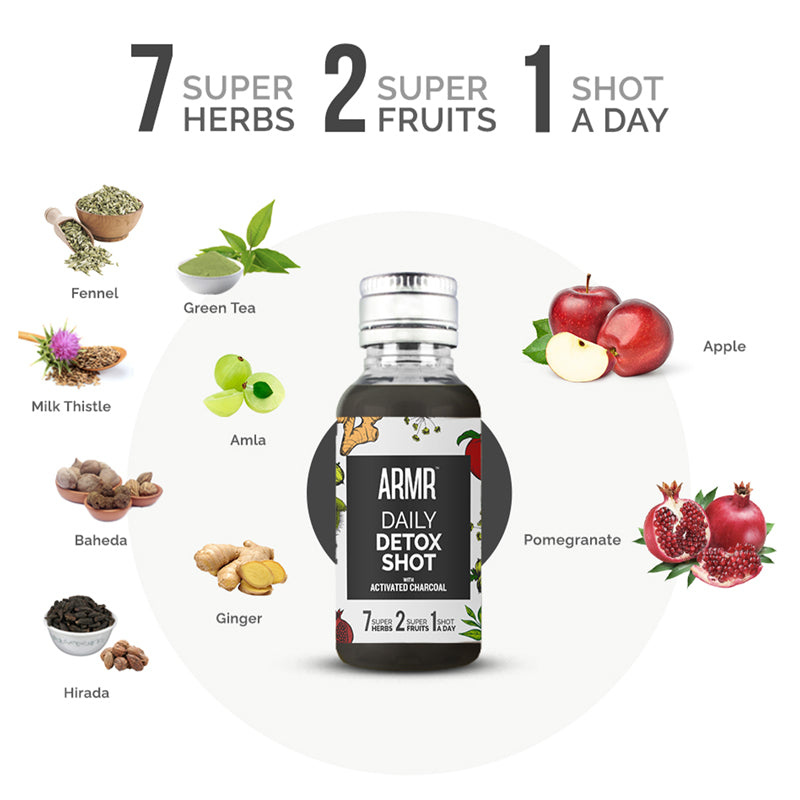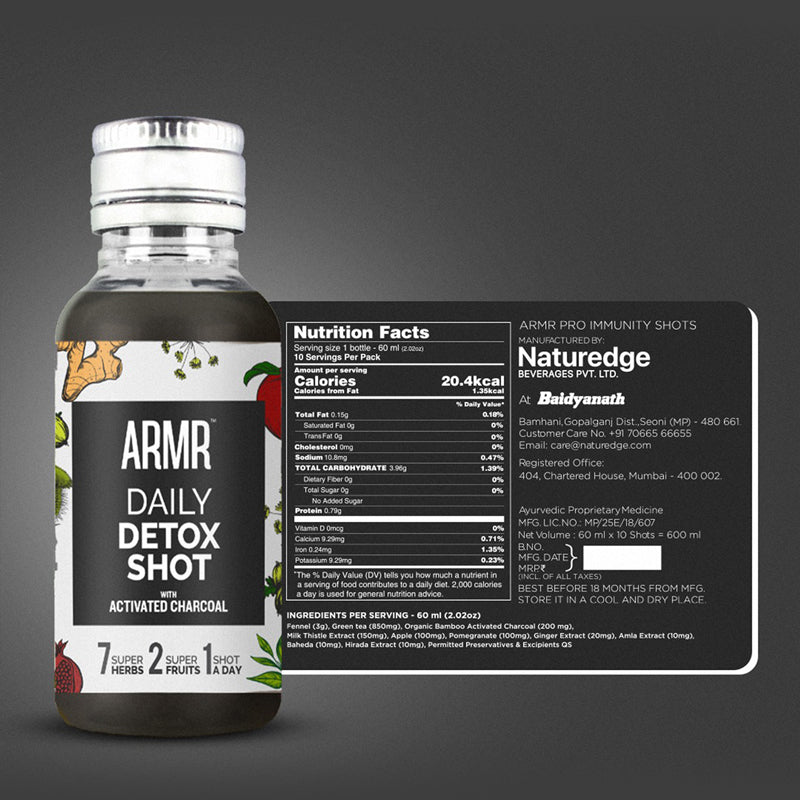 Good for daily health
Today I tried detox shot its bit on bitter side but after taste is good. Really refreshing and had good texture different from other products
CHANGES ARE FELT AND EXPERIENCED
After fews days consumption indeed changes are felt and experienced, so the product is a.good source of what body requires.
Thanks
Morning detox
I have one every morning. Its been so easy and lets not forget, tasty too!
Fennel taste is superb
The fennel taste overpowers other charcoal in this shot and is the best tasting charcoal product i've had
Frequently Bought Together
FAQs
How does this shot help with Body Detox?
It helps in th body's essential detox functions by Aiding Digestion, Supporting Healthy Liver Function, Improving Nutrient Absorption Maintain Lipid Levels.
How does the Daily Detox shot work?
It contains 100% Organic Activated Charcoal that traps toxins in the gut, preventing them from being absorbed and also helps cleanse the blood to ensure efficient absorption of nutrients.
How many shots can I drink?
It is recommended to have one shot everyday.
Does it contain any chemicals?
The Daily Detox Shots are purely Ayurvedic and made with Super Herbs like Fennel, Green tea, Milk thistle, Ginger, Amla, Baheda, Hirada and Super Fruits like Apple & Pomegranate.
Is it safe to consume?
It is Researched & Developed at the house of the Ayurvedic giant - Baidyanath, with all herbal ingredients that make it safe for all.